JAMES WHITFORD SR (1795-1872)
MARY NANCY SPENCE (1797-1877)
(Last Updated: April 12, 2014)
James WHITFORD was born around 1795, probably at Gordon House in the York Factory District, son of Sarah (Indian) & James Peter (JP) WHITFORD (1766-1818), an HBC employee born in England.
** MORE ABOUT JAMES PETER WHITFORD
Carlton House
1810
From 1799 to 1810 James' father (JP) was an Inland Trader in the York Factory District; according to HBCA which doesn't offer anything specifics regarding actual locations (my guess is that he went to the Carlton House area prior to1810).
In 1810 James became an Apprentice Clerk with the HBC at Carlton House. On Sep 3 that same year, the elder JP went 'Home" (England) for the winter (a furlough leave). I'm inclined to believe that James was the eldest son because he was the first to 'leave the mother's nest' and become employed. Then again, his mother and siblings may have gone to Carlton with James while their father was away in England. The Chief Trader in charge at Carlton during this period was John Peter PRUDEN (1778-1868). ** MORE ABOUT CARLTON HOUSE & JOHN PETER PRUDEN
In 1815-16 James' father (JP)  appears to have had his employment with the HBC terminated while he was at Carlton, due to an illness that had plagued him most of his life. We know that James and his brother Peter both became Canoe Men at that time, requiring them to leave home. It was probably around 1817-18 that the rest of the family moved to Red River country (Assiniboia).
Birsay Village – Orkney Town
1818-1819
Because of the WHITFORD-SPENCE family relationships that developed around that time, I am led to believe that James' father (JP) spent the rest of his days in what was known as Birsay Village or 'Orkney Town', a name that is attributed to Magnus SPENCE (1765-1845) an Orkney man from Birsay (Scotland), the elder who founded the little village. In 1818 James' father died, probably in Birsay Village.
In 1819 James spent his last year of HBC service back at Carlton House as a Labourer. He may have quit so that he could join his distraught widowed mother (Sarah) and his siblings at Birsay Village. It was undoubtedly there that James and his brother Peter met, and began to romance the two eldest SPENCE girls (Nancy & Christie), daughters of the aforementioned Magnus SPENCE. ** MORE ABOUT MAGNUS SPENCE and BIRSAY VILLAGE
By mid-September of 1819, Birsay Village was abandoned and both the SPENCE and WHITFORD families moved east to the main settlement along the Red River (Kildonan area). Later, French Canadian Freeman and Métis families from Pembina moved in to Orkney Town, recreating the village as the St Francois Xavier Settlement.
Marriage to Nancy SPENCE
1820
By 1820 negotiations were under way for a Union of the rival North West Company and the HBC (the merger became official the following year). The HBC began to downsize and large numbers of employees were retired and fired; James joined the class of the unemployed. Young half-breed men like James and his brother Peter were forced to live off the land like their maternal native ancestors; hunting, fishing and farming for sustenance
On Oct 14, 1820, Reverend John WEST (1778-1845) arrived at Fort Douglas (Winnipeg, Kildonan) where he established St Johns Church, the first ordained Anglican Clergyman and the first Church Missionary Society (CMS) Church in Red River.
On Nov 26, 1820, brothers James & Peter WHITFORD were baptized by Rev WEST. The very next day James married Mary SPENCE and Peter married her sister, Christie SPENCE, daughters of Christiana (Cree) and Magnus SPENCE (1765-1845). ** MORE ABOUT MAGNUS SPENCE
In 1821 daughter Jane was born. She was baptized on Nov 10 that year.
The Great Red River Flood
1826
The Great Red River Flood occurred in the spring of 1826, the worst ever experienced by the settlers of the time. On May 1l, 1826 Reverend David JONES (1796-1844) wrote in his journal that year-old St. Paul's Middlechurch at Image Plain was completely destroyed by the flood. Meanwhile, St. John's (Upper Church) was left relatively unscathed.
More and more HBC retirees began to arrive and settlement progressed further down the river, all the way to The Rapids (now Lockport) and Mapleton; to the very edge of the Indian Settlement. That district became generally known as Little Britain.
Red River Census of 1827: James WHITFORD, age 35 (b-c1792); married man & woman; One son (Samuel) and one daughter (Jane) (under 16 and 15 respectively. He has a horse and a canoe and has two acres under cultivation.
In 1838 daughter Jane married Samuel SPENCE in St Andrews.
In 1842 daughter Mary married in St Andrews to George SANDERSON, son of Elizabeth LAGIMODIERE & George SANDERSON (1796-1868).
On Apr 27, 1845 James' mother, Widow Sarah WHITFORD, died (age 70) at the Upper Church (Kildonan).
On Dec 9, 1851 son James Jr. married Mary ROBILLARD in St Andrews, daughter of Margaret (Indian) and Peter ROBILLARD, a French-Canadian.
Around 1852 daughter Sarah married William NORN (1830-1902) from the Orkneys.
Portage la Prairie
1853
In 1853, with the groundwork laid at St Peters, Rev William COCKRAN (1798-1865) left with his family to start a mission at Portage la Prairie. At the same time about 12 other families from Middlechurch and St Andrews settled in Portage as members of the first St Mary's congregation. These included John and Thomas ANDERSON; Baptiste and John DESMARAIS and Peter and Simon WHITFORD. Almost all of the good river lots along the Red and Assiniboine rivers had been taken up, and many sons and daughters of the early settlers had moved to there with their families.
In 1855 son Philip married Mary MOUSSEAU at Fairford (MB), daughter of Francoise DESJARLAIS & Basile MOUSSAEAU (born around 1786 in Quebec).
By 1859 COCKRAN and his son, Rev Thomas COCKRAN (c1830-1864), had established a mission (St Mary's Church) at Portage la Prairie. That summer Benjamin McKENZIE (1837-1928) moved there as a Teacher and soon after he married Harriet FIDLER.
In 1859 son Andrew married Eliza GILL at Portage la Prairie, daughter of Sophia HARPER & Robert GILL.That same year at Portage, son Frank married Jane ANDERSON,  daughter of Catherine LANDRY & Thomas ANDERSON (b-1806).
Victoria Settlement
1865
In 1865 daughter Nancy married at Portage la Prairie to Andrew SPENCE, son of Sarah FAVEL & Magnus SPENCE b-1811. Soon after, most of the WHITFORD family moved to Victoria Settlement.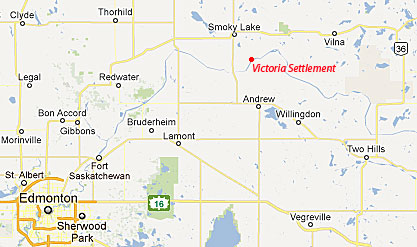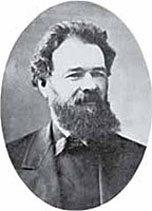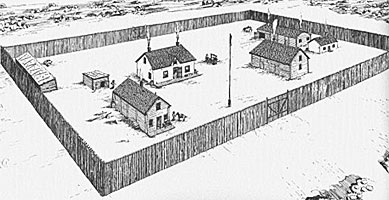 Reverend George McDougall - Fort Victoria
It was in 1863 that Reverend George McDOUGALL(1821-1876) established a mission, Victoria (later Pakan, AB), on the North Saskatchewan River about 80 miles east of Edmonton House. His son John McDOUGALL (1842-1917) was pressed into service to reopen a mission which they named Woodville, at the northwest end of Pigeon Lake. This mission was on an overland trail midway between Edmonton and Rocky Mountain Houses, accessible to both Stoney and Blackfoot tribes from the south. ** MORE ABOUT REVEREND GEORGE McDOUGALL in DCBO
McDOUGALL sent an invitation down to Benjamin McKENZIE at Portage la Prairie, inviting him to come to the Victoria Mission as a teacher and to tell his neighbors about the new homesteading opportunities. He accepted, and in 1865 he and his family made their way from Portage to Victoria Settlement, joined by an exodus of a large portion of the population of Portage la Prairie who had decided to take up homesteads there as well, including James WHITFORD and his family. It is said that 130 Scotch and English mixed-blood people from Red River settled in the area east of the Victoria Mission.
** MORE ABOUT McKENZIE and VICTORIA SETTLEMENT
In 1865 James would have been around 70 years old, his wife Mary about 68 years old. The children who came with them to Victoria were John (age 41); Philip (age 35 and wife Mary MOUSSEAU; Sarah (age 31 and husband William NORN); Frank (age 30 and wife Jane ANDERSON); Andrew (age 26 and wife Eliza GILL); Donald (age 22) and Nancy (age 17).
Canadian Confederation
1867
On July 1, 1867 the British colonies in North America were united under the British North American Act to become the Dominion of Canada.  Sir John A MacDONALD (1815-1891) was appointed as Canada's first Prime Minister.
Around 1868 son John married in the Victoria Settlement to an Indian woman named Margaret KIYIPATAWISH.
On May 5, 1870 son Donald married Marguerite (Peggy) CAYENNE at Victoria.
In 1869-70, a smallpox epidemic swept the Prairies; people died by the thousands. Whole Indian villages were wiped out before it ran its course. At Victoria Settlement, people were told to scatter and leave their homes so that the disease would not spread
In 1871, because of the growing importance of Edmonton House as transportation and trading centre, George McDOUGALL moved there to establish a permanent mission.
James WHITFORD died in 1872 and in the spring of 1877 Widow Mary died, both at Victoria.
In 1886 son Philip (of Victoria) claimed Scrip on behalf of the heirs of Mary (nee SPENCE) & James WHITFORD (then also deceased). Heirs were her eight children: John, Mary, Philip, Sarah, Francis, Andrew, Donald and Nancy.
Forum: DISCUSSIONS REGARDING JAMES WHITFORD
================================ Family Details ================================
Children:
1. 1821 JANE WHITFORD (m. Samuel SPENCE)
2. May 23, 1824 JOHN WHITFORD (m1. Margaret KIYIPATAWISH, m2. Mary SUTHERLAND; m3. Mary HUDSON)
3. Jan 22, 1826 MARY WHITFORD (m. George SANDERSON)
4. 1829 JAMES WHITFORD JR (m. Mary ROBILLARD)
5. 1830 PHILIP WHITFORD (m1. Mary MOUSSEAU, m2. Rachel BANGS)
6. 1832 PETER WHITFORD
7. 1834 SARAH "SALLY" WHITFORD (m. William NORN)
8. 1835 FRANCIS "FRANK" WHITFORD (m. Jane ANDERSON)
9. Mar 19, 1839 ANDREW WHITFORD (m. Eliza GILL)
10. MARGARET WHITFORD
12. 1848 NANCY ANN WHITFORD (m. ANDREW SPENCE)