NICHOLAS BABISKY (1883-?)
OLGA (HELEN) NAZAR (1889-1936)
(Last Updated: February 22, 2013)
Nicholas "Nick" BABISKY was born around 1883 in the Ukraine (Galicia), son of Katrina & Michel "Mike" BABISKY who was born n the Ukraine in 1850.  Surname variations: BABISKI, BABISKIE, BABICKI, BABECKE.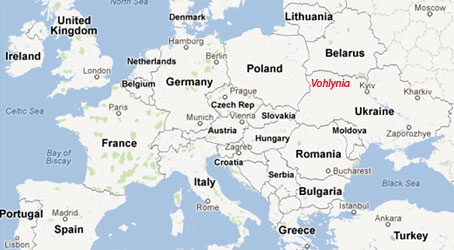 Nick immigrates to Canada
1899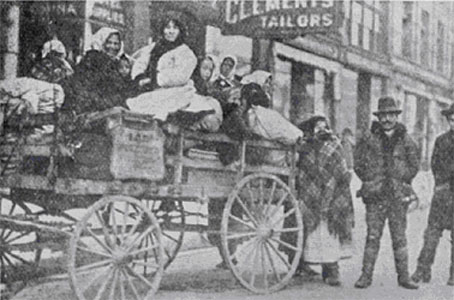 Ukrainian Immigrants leaving Winnipeg for their homestead in Manitoba
(Manitoba Archives)
Nick was about 16 years old in 1899, when his family immigrated to Canada and settled in St Clements Parish (Gonor).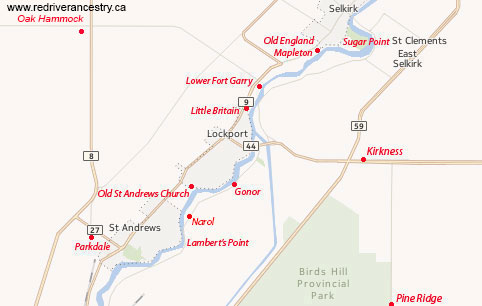 The community of Gonor opened its first post office on 1 June 1885 at a spot between the Red River and the CNR line. Early records suggest the post office and railway station shared the same building. The communities of Gonor and Narol grew after 1890 when immigrants from Ukraine, Poland, and Russia arrived in Manitoba from their arrival ports of Halifax, St. John, and Montreal.
The Gonor School District (No. 1070) formed in May 1900 with a one-room schoolhouse built in the fall. The first year of operation lists 55 girls and 75 boys in attendance.
Marriage to Olga NAZAR
1906
On Jun 7, 1906 Nicholas married Olga (Helen) NASER / NAZAR in the RM of St Clements. 
In the 1911 census in Gonor Parish Nick was recorded as age 28; wife Olga as age 21; their children as Alfred (age 4) and William (age 2).
World War I
1914-1919
On Aug 4, 1914Great Britain (Canada on Aug 5) declared war on Germany and Austria-Hungary to uphold treaties with France and Belgium which were under German attack. This marked the beginning of World War I.
East Lower Fort Garry - Lockport
By the time the 1916 census was taken the BABISKY family had moved to Lot 139 in St Andrews Parish on the east side of the Red River (across from Lockport and Lower Fort Garry). Nick was recorded as age 33, Olga as age 27); children: Fred (age 8), William (6), Annie (4) and Katie (age 2). With them is Nick's 60 year old mother, Katie BABISKY.
In 1917 son Michael (Mike) was born.
November 11, 1919, Armistice Day (Remembrance Day) marked the end of the First World War.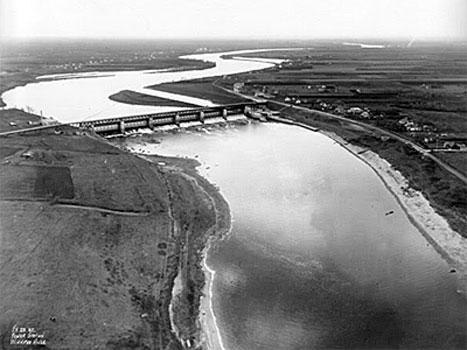 St Andrews Lock and Dam in 1923
Notice in the photo that the bridge approach on the West (right side) turns down onto
 River Road and does not proceed straight as it does now.
Around 1920 son Peter was born, apparently followed by Alexander and Ross. I have no details regarding Alex and Ross, need help. Finally in 1927 son Samuel was born.
Eldest son Alfred married Winifred McKENZIE, daughter of Mary Anne BIRSTON and Roderick Alexander McKENZIE (1871-1953). ** MORE ABOUT ROD ALEX McKENZIE
Son William married Dorothy DROBOT, possibly a daughter of Elizabeth & John DROBOT.
Daughter Ann married Clifford STEVENSON of origins unknown to me.
Daughter Katie married William GURAL of unknown origins.
Son Michael (Mike) married Hazel PRETTIE and son Peter married Betty PRETTIE, both daughters of Florence COX & John William PRETTIE (b-1900). ** MORE ABOUT JOHN WILLIAM PRETTIE
Daughter Mary married Douglas SANDERSON of unknown origins.
Son Samuel married Grace ZALISKO, daughter of Irene (DICKINSON) MOORE & Stephen ZELISKO (1910-1967).
Apr 14, 1936 Olga BABISKY died at the age of 47.
** It is obvious that much more information and details are needed. If you can be of assistance, please let us know on the Forum of this website.
Please post comments & queries at this link: FORUM DISCUSSING the NICHOLAS BABISKY FAMILY
========================= Family Details =========================
Children:
1. Nov 11, 1907 ALFRED "FRED" BABISKY (m. Winifred McKENZIE)
2. Aug, 1909 WILLIAM BABISKY (m. Dorothy DROBOT)
3. 1912 ANN BABISKY ((m. Clifford STEVENSON)
4. 1914 KATIE BABISKY (m. William GURAL)
5. Apr 10, 1917 MICHAEL (MIKE) BABISKY (m. Hazel PRETTIE)
6. c1920 PETER BABISKY (m. Betty PRETTIE)
7. ALEX BABISKY
8. ROSS BABISKY
9. MARY BABISKY (Douglas SANDERSON)
10. Feb 20, 1927 SAMUEL "BIG SAM" BABISKY (m. Grace ZELISKO)