FREDERICK JAMES FOORD (1879-1961)
MARGARET CHRISTINA KIRKNESS (1886-1944)
(Last Updated: December 08, 2015)
Frederick James FOORD was born Oct 26, 1879, in Brighton, Sussex, England, son of Isabella BANKS and John James FOORD (1846-1900).
In the book 'Beyond the Gates of Lower Fort Garry' published by the RM of St Andrews in 1982, son-in-law Frank WALTERS (1898-1995 submitted 'The Story of Frederick James FOORD', which provided the basis for this narrative. In 1993 Frank Walters also published a book called 'Pieces of the Past'. This book is a treasure-trove filled with rare bits and pieces of information about the history of Petersfield and the Netley Creek area.
Around 1893 Frederick (age 14) came to Canada (Winnipeg, Manitoba) with his parents and siblings Ellen Louise (age 15), William (11), Thomas (8) and Edwin (age 5). An older brother, Charlie, had gone west.
On Aug 27, 1900 Fred's father, James J FOORD died in Winnipeg at the age of 55.
 In the census of 1901 Fred (age 21) and his younger brothers (William, Thomas and Edwin) were recorded in the Winnipeg household of their sister and brother-in-law (Ellen and Ernest MONTAGUE).
Frederick settles in St Louis Settlement (Petersfield)
1904
From Frank Walters: Petersfield had its beginning in 1904 as a development by Romuald ST LOUIS, a native of Sorel, Quebec. He was connected with the Sun Life Insurance Company, and was interested in starting settlements both here and in Saskatchewan, naming them both after himself, "St Louis". After purchasing land on secions 22 and 27 to build his town, he needed a carptneter. So who did he bring out to do this building? Mr. Frederick James FOORD, the first permanent resident of St Louis, MB.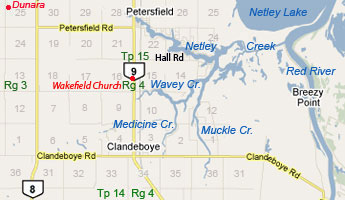 Marriage to Margaret KIRKNESS
1906
Census of 1906 in St Louis (Petersfield):Frederick FOORD, age 26; St Louis Farm with office in Winnipeg. Post Office is indicated as Kipiegan. With him is his mother, Widow Isabel FOORD (age 62) and his sister, Minnie FOORD (age 16).
On Nov 14, 1906, Frederick married Margaret Christina KIRKNESS, daughter of Margaret PHILLIPS & Joseph KIRKNESS (1856-1922).  ** MORE ABOUT JOSEPH KIRKNESS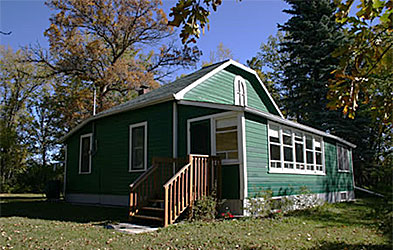 St Louis Cabin NE-22-15-4-E1- Manitoba Heritage Site No. 246 - Netley River Cottage
Built as a summer home for the family of Francois Xavier Gadiou-Saint Louis
who founded the town site (Petersfield) and resort on which it sits.
Erected by carpenter Mr FOORD - Occupied and maintained by the BEST family for over seven decades
Census of 1911 in Petersfield:Frederick FOORD, age 30; wife Margaret Christine, age 24. Children: Isabella Margaret (age 3), Ernest Cecil (age 1) and baby Minnie Ellen. Domestic: Margaret Jane LAMBERT, age 18. Margaret LAMBERT would soon marry Margaret's brother (Joseph George KIRKNESS).
World War I
1914-1918
On Aug 4, 1914 Great Britain (Canada on Aug 5) declared war on Germany and Austria-Hungary to uphold treaties with France and Belgium which were under German attack. This marked the beginning of World War I.
In 1916 Fred's 28 year old brother, Edwin FOORD of Winnipeg, enlisted there, stating his next of kin as his brother William Albert FOORD of Trossachs, SK.
Census of 1916: Interestingly, in this census we find Fred and his family at the residence of his soldier brother, Edwin FOORD (indicated as age 27 - 'overseas'), in the RM of Archie which is located northwest of Brandon: Frederick FOORD (age 26), his wife Margaret (age 28) and their children: Cecil (age 7), Minnie (6) and Frederick Jr. (age 3). ** Also interesting is that Margaret and their children are indicated as 'Indians' under racial origins.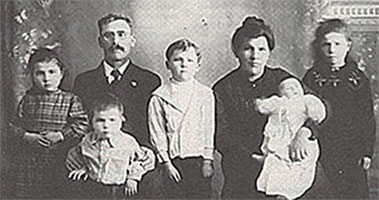 Fred & Mrs. Foord and family (About 1917 when Gladys was born)
Minnie (Walters), Fred Jr., Cecil (Curly), Gladys (Sinclair), Margaret
(From Beyond the Gates of Lower Fort Garry)
In 1917 Fred's brother, William Albert FOORD, a Locomotive Engineer, himself enlisted in Regina, SK. Also in 1917, Alfred FOORD of Trossachs, (west of Weyburn, SK) enlisted at Regina, stating his next of kin as his mother, Mrs Isabella FOORD of Trossacks, SK.
November 11, 1918, Armistice Day (Remembrance Day) marked the end of the First World War.
In 1920 Fred's mother, Isabella FOORD, died in Petersfield at the age of 56.
Census of 1921 in Petersfield: Fred J FOORD, Carpenter, age 42; wife Christina, age 34. Children: Margaret (age 13), Ernest C (11), Minnie E (10), Fred J (7) and Gladys R (age 4).
In 1927 daughter Minnie married Francis Jenkinson (Frank) WALTERS in Winnipeg, son of Eva NEEDHAM and Dr. Eugene WALTERS (1864-1934). ** MORE ABOUT EUGENE WALTERS
Around 1928 eldest daughter Isabella Margaret married Lucien MOREL from France, son of Marie and Emile MOREL (1872-1950).
Eldest son Ernest Cecil married Rita VEITCH, daughter of Elspeth BOYD and David VEITCH (1888-1928), a blacksmith from Scotland.
Son Frederick Jr. married Edith Margaret CLIFTON, daughter of Elizabeth and Harry CLIFTON (1892-1961) from England.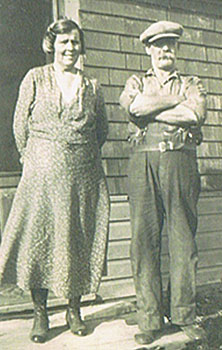 Last picture of Granny (Margaret) Foord with husband Frederick
On May 31, 1944 Margaret Christina (nee PHILLIPS) FOORD died in Selkirk.
Youngest daughter Gladys Ruth married twice; first to Mike JACOBY (1922-2005) and then to Elmer "Cap" SINCLAIR, son of Elizabeth Jane CORRIGAL & Archibald Daniel SINCLAIR (1883-1965).
On March 22, 1861 Frederick James FOORD died in Selkirk at the age of 84.  He's buried in the Wakefield Cemetery, Petersfield.
Comments and queries at this link: FORUM DISCUSSING the FREDERICK FOORD FAMILY
========================== Family Details ==========================
Children:
1. Sep 22, 1908 ISABELLA MARGARET FOORD (m. Lucien MOREL)
2. Sep 14, 1909 ERNEST CECIL "CURLY" FOORD (m. Rita VEITCH)
3. May 16, 1911 MINNIE ELLEN FOORD (m. Francis Jenkinson "Frank" WALTERS)
4. 1914 FREDERICK FOORD (m. Edith Margaret CLIFTON)
5. 1917 GLADYS RUTH FOORD (m1. Mike JACOBY; m2. Elmer "Cap" SINCLAIR)