MAPLETON SCHOOLS
(Last Updated: June 19, 2017)
A History of Mapleton Schools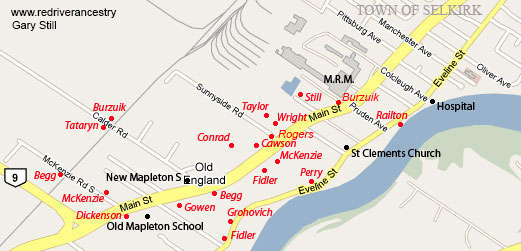 Location of the old and new Mapleton Schools, and some families of note during my era
The Mapleton schools I will discuss here were located in the Village of Old England. The two names (Mapleton and Old England) are often used synonymously. For historical purposes I will refer to Mapleton as that area lying along the Red River from Lower Fort Garry, north to the southern edge of the Town of Selkirk; and extending about two miles both east (East Mapleton) west (West Mapleton) of the river.
Undoubtedly the earliest Mapleton forefather was Chief PEGUIS (1774-1864) who led his band of Ojibway Indians from the Sault Ste Marie area to Red River in 1790. All of his children were bestowed with the surname PRINCE and there are still Mapleton residents who can claim him as their ancestor. The other Mapleton forefathers were early fur traders (employees of the Hudson's Bay Company (HBC) and Norh West Company (NWC) and Free Traders) and French-Metis buffalo hunters.
In 1811 first of the Lord Selkirk Settlers arrived at York Factory, and more would follow in the next 10 years. Until these folks arrived there were very few white people who actually established permanent homes along the Red River. Most were native hunters and fishermen who lived nomadic lives, particularly the early Metis buffalo hunters. Our own Peter FIDLER (1769-1822), as well as Chief PEGUIS, assisted these first Selkirk Settlers in getting established in Kildonan (Winnipeg) to the north. Many more settlers followed, creating discontent and resentment by the Metis of the region who saw their buffalo hunting territory being invaded. Resentment increased to complete intolerance with a series of harassments that intensified until in 1816 the Metis determined to drive the settlers out once and for all. Their leader, Cuthbert GRANT JR (1796-1854), led the Seven Oaks Massacre that year. GRANT succeeded in driving the settlers out (for a while), but some of them soon returned only to be faced with drought, starvation, and a grasshopper plague. PEGUIS came to their recue on many occasions thereafter, earning him much admiration and respect and gaining him the fame that would place him in the history books forever. Little did he know that these settlers, and many more to come, would begin an invasion of his domain that would result in land claim disputes that continue to this very day (2009)!
Hudson's Bay Company Retirees of the 1820's
The First Permanent Residents of Mapleton
As early as 1819 the HBC was already anticipating an HBC-NWC merger when it appointed its first Company chaplain for Rupert's Land, Rev John WEST (1778-1845). WEST arrived in October of 1820. On Dec 6 he wrote in his journal: "My residence was now removed to the farm belonging to the late Earl of Selkirk, about three miles from Fort Douglas, and six from the school (the first St John's School). - - - having frequently enforced the moral, and social obligation of marriage upon those who were living with, and had families by Indian, or half-caste women, I had the happiness to perform the ceremony for several of the most respectable of the settlers - - I had also many baptisms; and with infants, some adult half-breeds were brought to be baptised."
In 1821 the NWC was absorbed by the HBC and soon after, Governor (Sir) George SIMPSON took charge. The Company began to downsize with lay-offs and retirements. Many of these retirees with native wives and halfbreed children decided to settle in Red River. They built permanent homes spread along the river all the way from Kildonan north to what would become the Town of Selkirk and, of course, Mapleton.
In 1823 Rev John WEST left Red River and was replaced by Rev David JONES (1796-1844). During the summer of 1824 JONES built a second church, Middle Church (St Paul's), a few miles downstream (Image Plain) from the original mission at the Upper Church (St John's), and started a day-school there. In 1825 JONES was joined by Rev William COCKRAN (1798-1865). Nevertheless, until the mid 1820's most of the residents of the Mapleton area seem to have been members of the PEGUIS band of Indians. ** MORE ABOUT THE FIRST RED RIVER CHURCHES AND SCHOOLS
Red River Census of 1827
In the Red River Census of 1827 we find several prominant families who became the first permanent non-native residents of Mapleton, all headed by retired HBC men with native wives and halfbreed children as follows:
1. Alexander BIRSTON (1775-1829)
Alex apparently left the service in 1821 (the year of the HBC-NWC merger) and retired to the "Lower Rapids". He was listed as a Fisherman at Norway House in 1821, as well. There is a record by the Rev John WEST, Chaplain to the HBC, that on Aug 12, 1821 he baptised the following children of Alexander BIRSTON and an Indian Woman,
deceased: Alexander, Nancy, William and Magnus. ** MORE ABOUT ALEX BIRSTON
When Alex Sr died in 1829, his oldest son (Alex Jr) was 25 years old;  his only daughter (Nancy) was around 24;  William was around 21;  and the youngest (Magnus), about 18 yrs old.
2. James FOLSTER (c1772-1841)
James and his brother John were both enumerated in the 1827 Census. James was on Lot 214 and had two sons John (age 15) and William (a baby) as well as three daughters.
3. John FOLSTER (c1776-1871)
In 1827 John was on Lot 215, next to his brother James. ** MORE ABOUT JOHN FOLSTER
4. George SPENCE (1773-1859)
In 1827 George SPENCE was on Lot 105. He had a wife (Catherine, a Cree woman), two sons (over 16 years of age)
and two daughters. ** MORE ABOUT GEORGE SPENCE
5. John KIPLING (1774-c1850)
In 1827 John KIPLING and his wife Nancy (a Saulteaux woman) were recorded with three sons, George (age 12),
Edward (age 9) and Peter (age 4), and two young daughters (one was Jane, who would later marry Thomas Jonathan FIDLER). ** MORE ABOUT JOHN KIPLING
6, John LYONS (1786-1875)
In 1827 John LYONS (1786-1875) and his wife (Margaret, daughter of John KIPLING) with one son and two daughters. ** MORE ABOUT JOHN LYONS
Church historian and Archivist Rev.Thomas C.B. Boon in his book "These Men Went West", under Chronilogical Table of events to 1864 (page 78) in reference to 1831 writes: " Date uncertain: Rev. William COCKRAN began to interest himself in the welfare of of the band of Indians led by PEGUIS. A school under Joseph COOK (1788-1848) was opened at Sugar Point (south of what is now Selkirk) and the people were encouraged to build houses and to learn to farm." Boon again refers to these events in the Manitoba Historical Society (MHS) article entitled "St Peters Dynevor, The Original Indian Settlement of Western Canada. COCKRAN's "first efforts seem to have been made at Sugar Point, where the river stretches sharply to the east just above the present town of Selkirk, and a log school house was erected there which was taught by Mr Joseph COOK. Mr COOK was the son of William Hemmings COOK, a former Chief Factor of the Honorable Company, who was in charge of York Factory in 1812 and later retired to Red River Settlement. Josepn COOK devoted his life to the instruction and betterment of these particular Indians, and some dim recollections of him as a schoolmaster of somewhat exacting type are still current among the older people of St Peter's Parish." The log school-house (6 x 12 meters) also functioned as a teachers residence, and had a loft that doubled as a granary, and COOK became the first teacher, (with 32 children attending). ** MORE ABOUT JOSEPH COOK
Lower Fort Garry, 1832
In 1832 construction of Lower Ft Garry was begun.  This new fort became an important trading center for supplying goods to northern fur trading posts and packing furs for shipment to York Factory.
In reference to 1833 BOON further writes: "Date Uncertain: Indian settlement project moved from Sugar Point to where Cook's Creek enters the Red River. September: Mr John MACALLUM arrived from England and took charge of The Red River Academy, a High School for the sons and daughters of officers of the H.B.C. established by Rev D.T. JONES and Mrs. JONES, with the cordial co-operation of the "wintering partners of the Company. In the course of years this school developed into St. John's College and College School.
The Red River Census of 1835 indicates that Thomas Johnathan FIDLER (1795-1875) was on Lot 93 (across from Sugar Point, east of the Red). Tom was the eldest son of Peter FIDLER of Bolsover (1769-1822). Tom had three children who would have been around school age that year, James (age 13), John (age 9) and Nancy (age 9). The same census reveals that among the first residents of West Mapleton were John LYONS (1787-1875), George KIPLING (1805-1878) and George SPENCE (1773-1859).
From Archves Canada: St. Clement's Church, Mapleton, shares some of its earliest history with St. Peter's Church, Dynevor, although the latter was already established when The Rev. Charles HILLYER began to undertake an afternoon service at the Mapleton School in 1854. The first rectory was still unfinished when The Rev. and Mrs. Edwin A. WATKINS moved into it during the winter of 1857 – 1858 on the way to The Pas. Rev. WATKINS' diary indicates that plans for building a church had begun by October 29 of that year. Parishioners were told that if ₤100 were raised, an unnamed friend of the Bishop would match it. He also states that by then there was a Cree service every Sunday at Mapleton. Work began on the church June 2, 1860, and was built primarily by Samuel TAYLOR.
St. Clement's Anglican Church Opened in 1861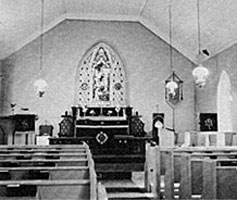 Anyone interested in this church and its history must read the booklet written by our old friend, Vernon RAILTON (1914-1995). The title is St Clement's Anglican Church, Mapleton; 125th Anniversary; 1861-1986; A History.
In 1857 Sam TAYLOR move to Mapleton to build St Clements Anglican Church in Mapleton. In his diary, he noted in some detail the building of the church. 
Railton - Handwritten diary of Sam TAYLOR:  Aug 7, 1861- "The first human being buried at Mapleton Church was a little boy of George KIPPLINGS who died on Sunday the 22nd Sept and was buried on the 24th
"On December 1861, Sunday 1st, the Church of St Clements was opened for divine worship by Lord Bishop of Rupertsland and Mr HUNTER.  This was Archdeacon James HUNTER (1817-1882) The church was full of people from up above and down below.  Indeed, many had to go home as it was rather cold that evening"
In 1863 the family of Catherine (nee SPENCE) and Charles Robert BEGG (1814-1902) arrived from the Lake Superior and settled on Lot 5 in Mapleton. ** MORE ABOUT CHARLES ROBERT BEGG
Petition for the Consecration of St Clements Church, 1864: Signees: Rev W.H. MOORE, Thomas BUNN, John PRUDEN, Joseph CORRIGAL, Thomas FOLSTER, Charles DONALD.
In 1870 Manitoba became a province. In 1872 surveys were begun to establish river lots that would determine the boundaries of the parishes of St Peters and St Andrews and create the new Parish of St Clements. St Peters was moved north of Sugar Point.
In the book "Beyond the Gates of Lower Fort Garry" (a Sequel published by the R.M. of St Andrews), on page 329 my old friend and school-mate (at Mapleton School) Verna (nee WRIGHT) GAMACHE wriote a very interesting article about her grandparents, Alice (nee McKENZIE) & William LYONS (1856-1939). Granny LYONS was really Verna's grandmother, but everyone in Mapleton referred to her as 'Granny LYONS'. Verna states that Granny attended Miss Davis' School for Girls in the stone house that still stands beside the Old St Andrews Church near Lockport. After Miss DAVIS' death the school (and the first post office in the Selkirk District) was established in the McKENZIE home in Mapleton. This would be Miss Matilda Anne DAVIS who died unmarried on Dec 6, 1873.
Petition for the First Recorded Consecration of Burial Ground, Possibly, 1876: Signees: Rev W.H. MOORE, John McKAY (vestry), Thomas FOLSTER, Peter SPENCE, George STEVENS, Joseph WHITEWAY, John SPENCE, John SPENCE SR.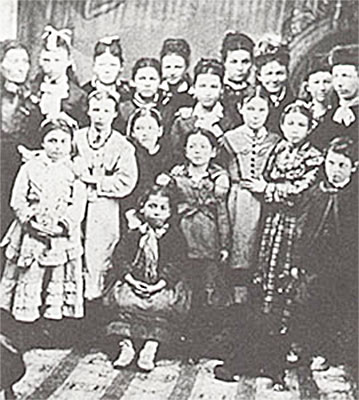 Mapleton School Class 1876 - Miss Moore, incumbent teacher
(From Beyond the Gates of Lower Fort Garry)
If anyone can identify people in this photo, we woul love to hear from you on th Forum.
On Sep 4, 1877 CPR Engine No.1, the Countess of Dufferin, arrived in Winnipeg. 

In 1878 Manitoba's first railway, the Emerson Line, was completed. It ran along the east side of the Red River from St Boniface to Emerson. Soon after, the railway from St. Paul to St Vincent, Minnesota was completed and the two lines were connected. On Dec 7, 1878 the first train from St. Paul (Minnesota), via Emerson, steamed into the Station at Winnipeg.
In 1882 the Town of Selkirk was formally incorporated. In 1883 the CPR constructed a branch line from Winnipeg to Selkirk. A boom town now, eager land speculators were rushing to grab up land in the town; the population increased dramatically.
Consecration of Additional Burial Ground, July 12, 1900. Signees: Thomas PRUDEN and Thomas BUNN (Wardens); John FIDLER, Henry FIDLER, Jack SPENCE, George SPENCE, Fred SMITH, Vern. FIDLER, Peter SPENCE, Wm. SINCLAIR.
MAPLETON SCHOOL BUILT 1912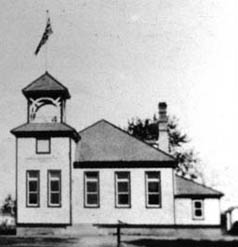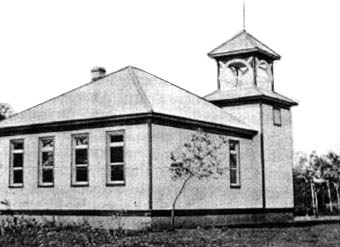 \
This school was in use until the early 1950's, when a new Mapleton School was built
The PARRANO family purchased the old school, moved it further back,
And converted into two one-bedroom apartments.
In 1911 land for the new Mapleton School was donated by Henry George BIRSTON (1849-1918). When the Census was taken that year, Henry was 61 years old. He was living on Lot 7 in Mapleton with his second wife, Widow Sarah (nee McRAE) MORRISON. It is easy to see why Henry wanted a school in the neighbourhood. He had numerous grandchildren of school age.
The Mapleton School #5 (that I, Gary, attended) was built in 1912, on land donated by Henry BIRSTON (1849-1918).
** MORE ABOUT HENRY GEORGE BIRSTON
World War I
1914-1918
On Aug 4, 1914 Great Britain (Canada on Aug 5) declared war on Germany and Austria-Hungary to uphold treaties with France and Belgium which were under German attack. This marked the beginning of World War I.
November 11, 1918, Armistice Day (Remembrance Day) marked the end of the First World War.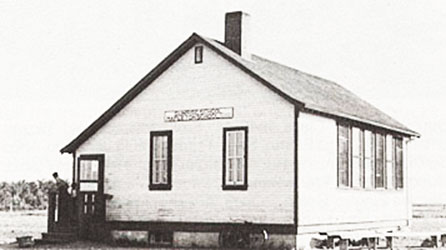 Sunrise School
Sunrise School was opened in 1939 as part of Mapleton School Dist #5.  The children numbered 20, from Grades I-VIII. I don't know when the Sunrise School was closed, but the TATARYN boys and the LEIBRECHT girls in the following 1944 picture were students at Sunrise. I would love to receive more information about the Sunrise School!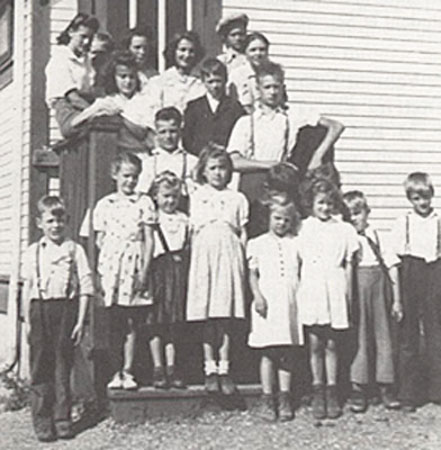 Sunrise School Class of 1943-44
Front Row L-R: Donald WOZNY, Jean FINGLER, Olga FTOMA, Stella FTOMA, Paula JEHLE,
Jo-Ame JEHLE, Tommy WOZNY, Ronald FINGLER
Cemtre Row: Ann FTOMA, Rudolph JEHLE, Frank BANNISH, Peter YAKIMCHUK
Back Row: Bernice FINGLER, Helen ORACH, Adeline WOZNY, Elinor KARTZMARK,
Robert FINGLER and David CANVIN
World War II
1939-1945
On Sept 4, 1939 Canada and Britain declared war on Germany, beginning World War II.

Mapleton School, The Class of 1944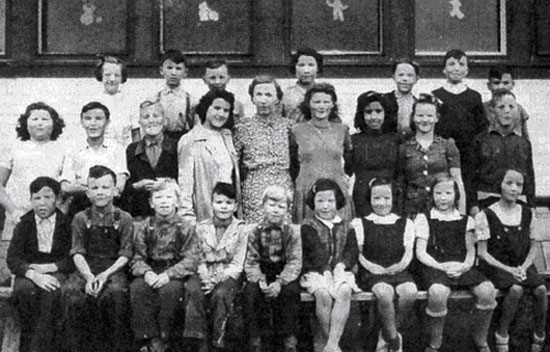 Top Row L-R: Marlene HODGSON, Chucky WRIGHT, Bernard TATARYN, Shirley BEGG,
Joe MAGNUSSON, Neil TAYLOR, Sid GOWEN
Middle Row L-R: Verna HNATIUK, Ian McKENZIE, Marshall CAMPION, Mary WRIGHT, Mrs McKENZIE,
Agnes LEIBRECHT, Evelyn BEGG, Lily LEIBRECHT, Norman FORSLUND
Front Row L-R: Harvey BEGG, Eddie TAYARYN, Metro ELKOW, Peter GOWEN, Walter ELKOW, Hazel BEGG,
Dolores HODGSON, Tyra FORSLUND, Mary-Alice McIVOR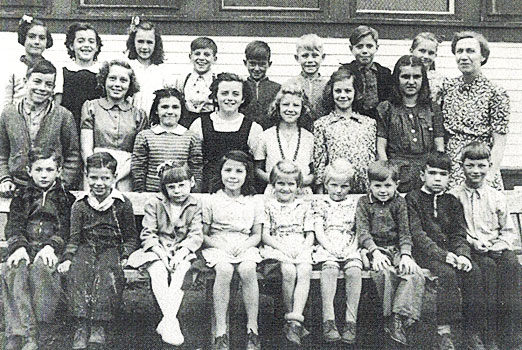 Top Row L-R: Evelyn BEGG, Pat DICKENSON, Shirley PIASEKI, Denis STILL, Edgar CONROD,
Lorne MAGNUSSON, Joe MAGNUSSON, Joan CONROD
Middle Row L-R: Billy STILL, Mabel McRAE, Janice GUNN, Clarice DICKENSON, Myrna STILL,
Vera CONROD, Arlene CONROD, Mrs McKENZIE (Teacher)
Front Row L-R: Richard PIASEKI, Billy-Bruce McKENZIE, Jacqueline DUVAL, Phyllis WRIGHT,
Wilma CONROD, Connie CONROD, John STILL, Edward GOWEN, Donald McIVOR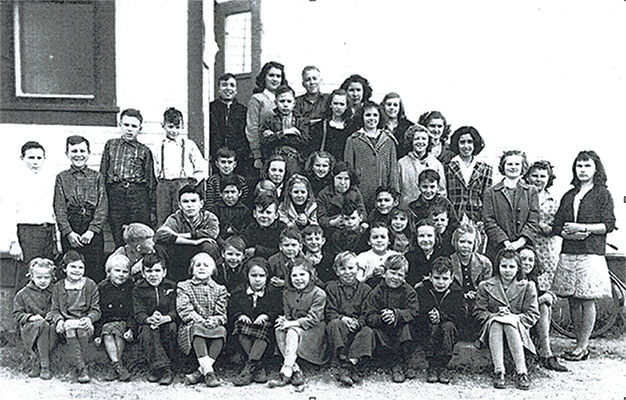 Can't remember where I got this picture. Need help please! What year was it?
On May 7, 1945 Germany surrendered and the War in Europe ended; the next day, May 8, was declared VE Day.
Some teachers I remember were Mrs Kristin SMITH, listed as a teacher from 1944 to 1964; Mrs Annie Catherine JAMES 1949-50; Evelyn BRANDOW 1950-51; Anne KOCHIE 1951-55.
Miss Edith THOMPSON - a music teacher who came from the USA in the early years of Mapleton, lived near the school.  Her father kept bees, sold honey, and was caretaker of the school.  Edith served as school trustee for a time, taught music - piano and violin, in Selkirk and Winnipeg and had pupils in her home.  She played for Christmas Concerts and social functions and, along with Manny HOUTON, was part of Miss POTTS orchestra. On a few occasions Miss THOMPSON was acted as a temporary teacher at the school (when the regular teachers were away sick, etc)
Mapleton School Class of 1951
Mapleton School Class of 1951 (Grades 1 to 4)
Back L-R: Randy McKENZIE, Keith BUTLER, Jimmy KIRKNESS, Kenny STILL, Lawrence HNATIUK,
Wayne KITCHEN, Kenny WATSON, Doug KITCHEN, Donald GOWEN, Bob FREEMAN, Ross McLEOD,
Doug ADAMS, Wilfred McRAE, Ted ZAMOLSKI, Lawrence ANDRUSHKO, Mrs. Kristine SMITH (teacher)
Sitting L-R: Valerie TATARYN, Susan COPELAND, Judy COPELAND, Merle McKENZIE, Beverly KAZUIK,
Dianne BOBERG, Keith WATSON, Ronny FREEMAN, Kenny COLLISON, Benny ZAMOLSKI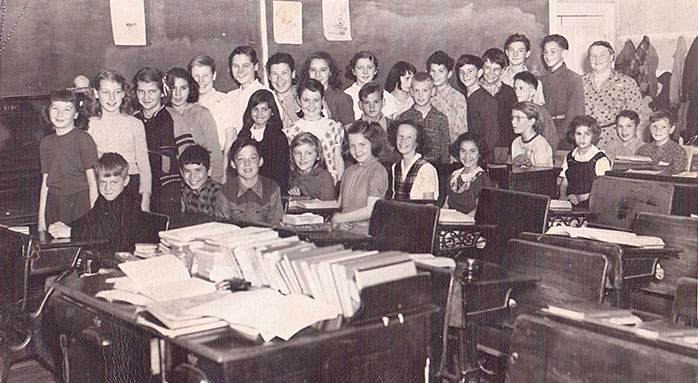 Mapleton School Class of 1951 (Grades 5 to 8)
Back L-R: Myrna KAZUK. Myrtle BRYAN, Wilma CONROD, Phyllis WRIGHT, Marion BRYAN, Virginia BRYAN,
Hazel BEGG, Verna WRIGHT, Jo-Ann DOWHOZIAH, Ruth GOWEN, Peter GOWEN, John STILL,
Kenneth McIVOR, Donald McIVOR, Tommy SMITH (little guy), Richard PIASEKI, Mrs. MUNDY (Teacher)
Middle L-R: Beryl BOBERG, Doreen HELMER, Douglas McKENZIE, John COPELAND
Sitting L-R: Allan KIRKNESS, Ernest GOWEN, George FREEMAN, Jean ZAMOLSKI, Marilyn ANDRUSHKO,
Eleanor KREVIAZUK, Beatrice BEGG, Connie CONROD, Barbara BOBERG, Dick McKENZIE and Gary STILL
Grade 8 was as far as you could go at Mapleton School, so to enter Grade 9 students had to got to the Selkirk Collegiate until the summer of 1954.
Temporary High School in the St Clements Church Hall
1955-1957
.
In 1955-56, due to overcrowding, students from out of town who wished to advance to Grade 10 were forced to go elsewhere. The old St Clements Church Hall was transformed into a temporary Mapleton High School, and students from St. Peters, Lockport and Sunrise schools were also welcomed. Teacher: Tony MAKSYMYK (1925-2007).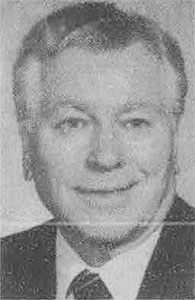 Tony Maksymyk
Students who attended the St Clements High School
From Mapleton:
Marilyn ANDRUSHKO
Beatrice BEGG
George FREEMAN
Myrna KAZUK
Eleanor KREVIAZUK
Kenneth McIVOR
Gary STILL
John STILL
From Sunrise:
John FTOMA
Steve FTOMA
From Lockport:
Lorraine LOUTIT
Marion LOUTIT
From St Peters:
Glen CLEMONS
Roy SMITH
Jimmy SMITH
Eleanor May SMITH
Marjory EADES
Eleanora HABERMANN
Samuel SINCLAIR
Alva SKIDMORE
Roland
There were others – Need help to name them all.
THE NEW MAPLETON SCHOOL
1958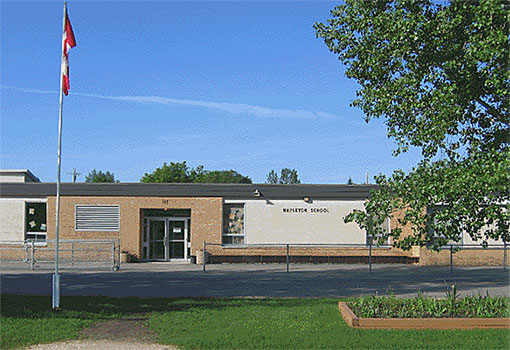 Mapleton School built in 1958
In 1958 the New Mapleton School was built on Calder Road.
Ross McLEOD: "The houseboy, PIRANO (not sure of the spelling) later would come into or marry into money. This was the family that had a place next to Mapleton School behind CAMPION's house and Jackie SPENCE's cabin and wound up buying the old school building and moving it a little further from the highway around 1960".

Additions to the new Mapleton School were made in 1964, 1978 and 2002. (Thanks to Ross McLEOD for his 'extensive' research)
BGLFG Pg 411: In 1979 Adele (nee SCHREYER) & Howard PAULEY (Premier of Manitoba in 1981) purchased the property from Yvonne & Marcus PARRANO. Their two story, white clapboard house sits (1981) on part of River Lot #6, next to the original Mapleton School site.
========================================
I look forward to receiving comments and criticisms from anyone. I plan to do future revisions and updates to this narrative, as I myself become further enlightened. To post your own queries or comments about students and teachers, please click on the following link: ** FORUM FOR DISCUSSING THE MAPLETON SCHOOLS